The Guardian has released a very interesting article about the team soccer of my city: Athletic Club de Bilbao. A special team whose philosophy of development it's defined by his players, only from the Basque Country. Simon James, the writer, reflect how this strategy it's became in the being of the brand all over the world. And how this "culture" is an example, not only of branding, but also of risk, innovation and succeed. Indeed the Athletic Club de Bilbao was placed fourth in the last best soccer league in the world, Spanish league.
The oldest team of Spain in the premier league, a little team with a little budget, only with local players, but who is be able to deal with the best teams in the world, as Real Madrid or Barça.
Thanks Simon James for the article.
Enjoy it!!
What Athletic Bilbao can teach brands about risk and innovation
Football shows that those with the least resources make the best innovators, saysSimon James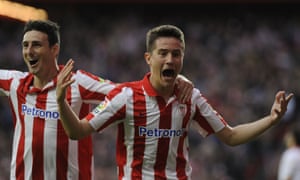 That's what happens at Athletic Bilbao, a Basque team competing in the Spanish La Liga competition. Athletic only fields Basque players. There are 2.6 million Basques in Spain, equivalent to the metropolitan area of Pittsburgh or Liverpool.
Athletic have never been relegated in their history (sharing the honour with Barcelona and Real Madrid) and this year, hidden behind the grand achievements of Atlético Madrid (containing two Belgian, two Uruguayans, four Brazilians, a Portuguese and a Turk) qualified for the European Champions League by finishing fourth in La Liga. This week they beat SSC Napoli to qualify for the group stages of the tournament for the very first time.
The best Basque players in the world – Alonso, Llorente, Martinez, Illarramendi and Azpilicueta – play for the biggest teams in the world (Real Madrid, Bayern Munich, Juventus and Chelsea, respectively), who pay fees and salaries well out of the reach of Athletic Club.
So how does Athletic Bilbao continue to win in an unfair game that makes Moneyball look like a walk in the park? There are no drafts or collective bargaining, no profit shares or luxury tax in football (sorry, soccer).
The answer? They built the world's finest youth academy system. Without the best youth academy system (or "cantera" as it is known in Spain) they would die. They do it because it is their only choice. They say necessity is the mother of invention – but that doesn't go halfway to convey the importance of Athletic Bilbao as a symbol of the Basque people.
Is it necessary for the Yankees to have a good farm system, or Chelsea FC a good youth academy? Of course not; they can go out and buy any talent they need. Chelsea haven't developed a regular first team player from their own academy since John Terry almost 20 years ago (and he joined from West Ham). The Yankees have generated only 38 home runs from 1st round draft picks since Derek Jeter in 1992 (32 of those were scored by one guy).
Innovation doesn't need millions of dollars, nor designer bearded boy-men drinking expensive coffee in designer sandals; it needs an authentic do or die situation. A lack of budget presents a greater sense of urgency than deep pockets. A burning platform is more likely to generate creative disruption than strong quarter-on-quarter growth trends. Steve Jobs' return and subsequent turnaround of Apple was do or die.
So why is it that those with the least resources are most adept at innovation? Some of the companies with the biggest research and development (R&D) budgets in the world have failed: Kodak, Blackberry, Nokia and Xerox to name a few from a very narrow sector. In 2009, Motorola spent more on R&D than Google.
Unencumbered with former glories, or profitable business to defend, startups represent the major thrust of innovation because that is all they have. But many big businesses seem to prefer slow but terminal and inevitable decline. In recent months commentators have suggested that an increasingly diverse list of things is in terminal decline: Tesco, town centres, Manchester United and the UK, none of which are in a position to innovate their way out of trouble. That 6th century BC raconteur Sun Tzu once quipped: "A slow death is a death nonetheless."
When you don't have options, decision-making is taken off the table, and when decision-making is taken off the table, there is no fear that you might be making the wrong decisions. Accountants call that fear "opportunity cost" and its consequences are called "risk". Yet we ascribe far more risk to things that we have not done before than those things we have never done. It's the human condition of familiarity bias.
To compound matters, due to the cognitive bias of loss aversion, where humans place much greater value on avoiding losses than generating gains, we favour the path of least risk. Risk aversion in marketing is a risky proposition; the primary role of marketing in a business is growth. If your decision-making is focused on minimising risk, by definition you cannot be maximising growth.
It is inevitable that Athletic Bilbao have the best cantera in the world of football. It is the only path to success. It is equally inevitable that the Yankees or Chelsea are terrible at youth development. If you want to consistently and successfully innovate in marketing, you need to embrace innovation as your philosophy.
Innovation is not the new product development department; it is not that top secret Project Phoenix Omega – it is a strategy designed to maximise growth by embracing the risk where others fear to tread. It is seeing that risk as the reason why returns are so high, not as a barrier to entry. For Athletic Bilbao there is no risk in their strategy because it is the only path open to them. There is no alternative. No opportunity cost. No fear.
Simon James is global lead for marketing performance analytics at SapientNitro